03/02/2016
News from our client EnviTec Biogas UK with PR and video production both carried out by Shepherd PR. Read the full article on the Waste Management World website or below…
A FORWARD-THINKING family business is reaping high-energy rewards from a move into anaerobic digestion.
Horseway Energy has produced enough electricity to supply more than 900 homes since installing a high-tech AD plant from EnviTec Biogas UK almost exactly a year ago.
And managing director Nick Allpress celebrated the first anniversary of the project by revealing the investment is on course to pay for itself within eight years.
Nick, who runs Allpress Farms in Cambridgeshire alongside brother Patrick, set up Horseway Energy as a separate company in December 2014.
But he says diversification has paid strong dividends for the entire business.
"Moving into anaerobic digestion was a big decision for us, but we've seen significant benefits in the year since we launched the project," he added.
"Our plant generates almost 12,000 kWh of electricity a day – that's 4.25 million kWh since we first flicked the switch.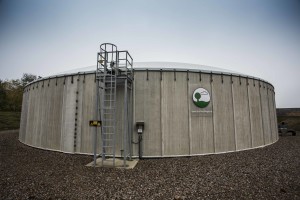 "That means we're well on course to meet our financial targets and return on capital is running with initial predictions.
"But converting waste to energy has also helped us to become much more efficient across our business.
"It has really worked very well for us and we can look back on the last year with a degree of satisfaction."
The 2,500-acre Allpress operation produces leeks and onions for supermarkets as well as wheat, maize and sugar beet.
Nick added: "Our day-to-day activity produces a lot of waste and we wanted to make use of that. We also wanted to diversify, so we saw AD as the perfect fit.
"We chose EnviTec Biogas as they had a strong balance sheet during a time when the AD industry was going through a difficult stretch.
"They were committed to delivering on time – the plant was actually installed in just five months – and their pre-mixing dissolver was the best solution for our farm as it enables us to remove stones from the waste effectively.
"We also know that we have the back-up of the UK based biology and service teams."
The plant is fed each day with 50 per cent maize and 50 per cent leek and onion waste and the digestate – the organic bi-product of the AD process – is being used as fertiliser.
That delivers further savings for the business, which employs more than 100 full-time staff.
Mr Allpress added: "The beauty of our plant, aside from the sustainable generation of electricity and the obvious benefits that brings to us, is that it has helped us to close the loop in a way.
"It's supplied with waste from our own farm, some of which costs us nothing, and provides us with a fertiliser for our crops which all helps reduce our carbon footprint.
"It really works for us on a number of levels and we're delighted with how it has panned out."
Mike McLaughlin, managing director of EnviTec Biogas UK, said: "Our AD plant has delivered significant benefits to both Horseway Energy and Allpress Farms since it was installed a year ago.
"It's great to see the farm making such good use of the waste they were once simply disposing of and equally good to see Horseway Energy exporting so much renewable electricity to the grid.
"We're delighted to have played a role in their success and our back-up team will help ensure they benefit long into the future."
For a video about the project, go to https://bit.ly/1NkfGmz