10/06/2015
COLOUR experts at Crown Paints have pinpointed the key influences that will shape colour in interior and exterior environments later this year.
Crown Paints' team of colour specialists have curated three eye-catching schemes, each featuring exciting options that enable specifiers to combine shades for maximum impact.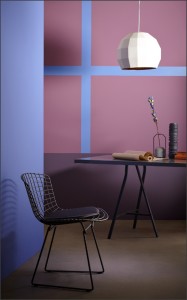 Colours from the three stunning new palettes – entitled 'Faded Simplicity,' 'Stitch' and 'Retrospective' – are available in products within the company's Crown Trade, Sadolin and Sandtex Trade brands.
These can be viewed in the Crown Paints' Autumn Winter 2015 trends brochure, which can be ordered by emailing the spec services team info@crownpaintspec.co.uk
Crown Paints colour specialist, Jemma Saunders, is a member of the Colour Influences panel and has worked to ensure the palettes appeal to the unique needs of specifiers in a wide-variety of environments.
Jemma said: "The first palette, 'Faded Simplicity,' is defined by natural colours and takes its inspiration from an Autumn Winter catwalk scattered with blush and butterscotch tones.
"This palette represents a desire to strip things back to a natural aesthetic and features chalky ceramics in muted grey and creamy tones, with weathered finishes wood furniture that celebrates the beauty of nature. It also includes injections of contrasting textures, with tactile edges and metallic embellishments adding shine and hard surfaces.
"The second trend, 'Stitch' celebrates traditional skills and crafts such as weaving and patchwork.
"Inspired by layered colours and textures, it brings together unexpected hues and contrasting textures to create a modern collage of colour.
"This palette is defined by structured lines of colours full of depth such as purple and gold, combined with sudden interjections of zingy orange and brilliant blue that bring the look to life. Chic greys complement the brighter 'Stitch' tones and lend an architectural edge to the trend.
"The final trend, 'Retrospective' is a sophisticatedly modern take on an iconic era, offering glimpses of Mid Century design.
"Underpinned by an adherence to simple shapes and elegant colours that work together to create a timeless finish 'Retrospective' blends the vibrancy of ocean blues and turquoise greens with classic neutral tones to form a strong and effortlessly stylish palette."
Jemma is part of Crown Paints' Colour Services Team, which offers specialist advice for specifiers.
Accessed through Crown Paints' Specification Services team, the Colour Service is on hand to offer expert assistance to professional customers of Crown Paints.
The service includes bespoke colour cards and a colour library. Interior schemes can also be completed using computer aided design, as well as face to face consultation, depending on the scale of the project.
For more details please contact the Crown Paints' Specification Team by calling 0330 0240310, email info@crownpaintspec.co.uk or visit the website at www.crownpaintspec.co.uk