12/09/2018
Electric tug manufacturer MasterMover is expanding its horizons across The Channel, with a new sales and service office near Paris.
The company, which has its international headquarters in Ashbourne, Derbyshire, has opened the facility in the Bailly-Romainvilliers region.
From there, MasterMover is providing sales support, a parts facility, site evaluations and demonstrations, as well as a servicing centre.
The investment reflects the importance MasterMover places on the French market, where the company's pedestrian electric tugs are gaining ground, delivering safety and efficiency benefits in sectors including aerospace, general manufacturing and food and drink.
It also reinforces MasterMover's overall commitment to international expansion.
Formed in Derbyshire in 1997, MasterMover has gone from strength to strength in the UK market and overseas, with its battery-powered, pedestrian-operated electric tugs operating in all corners of the globe.
The company already has offices in America, Brazil and Germany, as well as agents and dealers serving 29 countries.
Engineered to move loads of all weights and sizes across commercial, industrial and public environments, the tugs are relied upon by leading brands and organisations around the world due to their ability to ensure load handling is managed safely and efficiently.
Andy Owen, managing director of MasterMover, said: "France is an important market for us and we want to be in a position to support the customers as best we can by setting up a local office.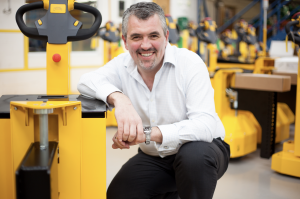 "MasterMover has been selling in the country for 15 years and in that time we've built up a dedicated team, based in France and also at our UK headquarters.
"We are now in a strong position to expand our offer to clients."
For more information, visit: https://www.mastermover.com/news/mastermover-makes-french-connection-in-new-business-expansion?_ga=2.148200959.933975600.1536573163-1941087960.1484910782#.W5jqKuhKi70