26/01/2017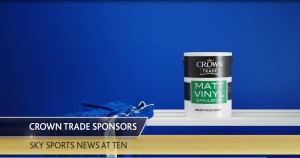 Crown Paints' high performance brands and service will air throughout 2017 on screens across the country and beyond as part of a high impact sponsorship package with Sky Sports News HQ.
Crown Trade, Sadolin, Sandtex, as well as Crown Decorating Centres, will each take a share of the screen time, featuring on the station's popular 10pm bulletin, 365 days a year, reaching nearly 5 million adult men.
The agreement represents four years of collaboration between Crown Paints and Sky, and the UK paint manufacturer's third full year of sponsorship.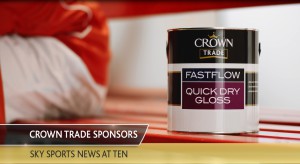 At four dates throughout the year, Crown Paints' brands will take over the SkySports.com homepage, with a range of exciting initiatives. The activities will also run across Sky Sports mobile and social media sites.
The sponsorship package kicks-off with the Crown Trade brand, using new 'idents' developed for 2017.
Within the setting of a football changing room a selection of Crown Trade's premium products are featured, including Crown Trade Fastflow Gloss, demonstrating its flow and fantastic finish.
Crown Trade Clean Extreme is referenced in a further ident, which highlights the scrubbable features of the product.
Finally, Crown Trade's industry leading colour matching service is brought to life with a personal touch.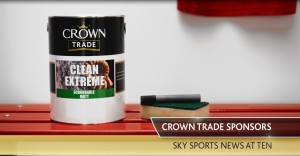 Debbie Orr, Marketing Manager at Crown Paints, said: "Our partnership with Sky Sports News HQ is going from strength to strength and it's the perfect platform for us.
"We are able to use this 'must-have' TV channel to reach millions of sports fans and share information about our brands and service in a personal and highly-engaging way."
Sky Sports News launched in 1988. It relaunched as Sky Sports News HQ in August 2014 and moved to Sky channel 401, providing viewers with an unrivalled sports news service plus a showcase of other content on the Sky Sports channels.
In addition to its 24-hour TV news service, Sky Sports News HQ is also available across a digital portfolio of apps, skysports.com and social media.
Throughout the year, Crown Paints will be providing further updates detailing its exciting homepage takeovers.