19/09/2017
National trade body The Property Care Association is urging caution as the invasive weed Giant Hogweed takes hold.
The plant's sap is extremely toxic to the skin in sunlight, making it a danger to public health.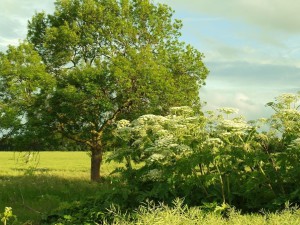 And experts from the PCA say if anyone comes into contact with any part of the plant, followed by exposure to sunlight, they can sustain severe blistering to the skin and discomfort, which can become a long-term condition, recurring in subsequent summers.
Professor Max Wade, Chairman of the PCA's Invasive Weed Control Group, said: "Giant Hogweed is turning out to be a problem again this summer. It is continuing to spread and, in one area alone, I've seen it appear in five new locations.
"It is really important that the plant is spotted and that its toxic sap does not come into contact with skin in the sunlight.
"If this occurs, it can lead to a nasty rash, itching and blisters when skin first makes contact with it.
"The rash and the itching can reoccur and flare up for years afterwards when skin is exposed to sunlight.
"An added concern is the fact that Giant Hogweed sap which comes into contact with items such as clothing and equipment can also be transferred via touch, so it can possibly affect somebody else."
In previous years, there have been a number of reports of people sustaining injuries after coming into contact with the invasive weed in the UK.
Professor Wade advises that if contact is made with the plant, the affected area should be covered from sunlight and the skin washed with water as quickly as possible.
Professor Wade added: "The chemical in the plant, a furanocoumarin, needs bright light to react with the skin and causes blistering and other health problems, so this is the time of year when problems can ensue.
"The general public, as well as local authorities, statutory agencies and landowners on whose property people can come into contact with the plant should be aware of the risks and Giant Hogweed needs to be controlled and managed professionally."
The plant can grow up to three metres high with a two centimetre diameter stem and a large, white, umbrella shaped flowering head.
It has sharply serrated or divided leaves which can grow up to 2 metres with bristles on the underside.
The stem is usually covered in bristles and has blotchy purple markings. It can be confused with the native hogweed but this is much smaller in size in all aspects.
The PCA's Invasive Weed Control Group has produced a Guidance Note on "Managing Giant Hogweed" available to view at www.property-care.org/wp-content/uploads/2014/12/Guidance-Note-Giant-Hogweed.pdf
The PCA also provides a means of identifying specialist contractors and consultants with the expertise to control and manage invasive species such as Giant Hogweed, as well as other plants such as Japanese knotweed.
A full list of companies in the Invasive Weed Control group is available in the 'Find A Specialist' section on the PCA website and more details on invasive weeds in general are available via www.property-care.org/homeowners/invasive-weed-control.