17/12/2015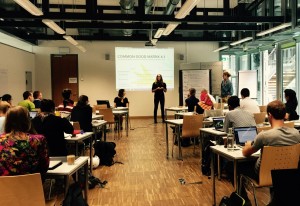 In a world where internationalisation and diversity are key, the chance for UK students to head to Vienna for an economics summer school offers more than the chance to absorb the latest thinking on the subject.
Alternative Economic and Monetary Systems (AEMS) is a thirteen-day programme that explores the economy of the future, and how it can adapt to balance some of the turmoil, strains and challenges of modern life.
It also gives students across the UK the chance to build a global network of contacts for the future, enhance their CVs and study in an environment with a truly global perspective.
AEMS, along with the social activities surrounding the programme, is operated wholly in the English language.
Taking place from the 27 July until 14 August 2016, the course is organised by the OeAD-Housing Office, which offers sustainable accommodation for students across Austria, together with the city's BOKU University of Natural Resources and Life Sciences, and the Economy For The Common Good movement.
The AEMS summer school is operated under a not-for-profit arrangement and as a result costs €1390. This price includes all accommodation, which is based in OeAD's highly energy efficient passive house student properties in Vienna.
The course runs for two and a half weeks and at the end students are able to enjoy an additional free week in the OeAD accommodation, providing an ideal opportunity to explore Vienna cost-effectively and continue their networking opportunities.
Topics include the reform or redefinition of money, an overhaul of the aim of economic activity towards solidarity and co-operation and tax reform.
Improvements to financial markets, changes in consumer culture and the reduction of resource consumption are also addressed.
Günther Jedliczka, CEO of the OeAD-Housing Office, said: "Vienna is the heartland of the Economy for the Common Good movement, which provides the focus for this course.
"We look at and debate alternatives to the capitalist system, where profits still count, but factors such as life-work balance, ethics, sustainability and the environment are all factored in.
"Those taking part in the course are looking to break the mould. In a collaborative, international setting the summer school offers a unique opportunity for students wanting to understand how happiness and satisfaction are key drivers rather than material goods."
Students completing the AEMS summer school will be awarded five ECTS points. Training is delivered by a consortium of Austrian universities, together with technical colleges, experts and NGOs.
Places for the AEMS summer school are limited and applications are now open at www.summer-university.net
There is also a Facebook page at https://www.facebook.com/AEMSVienna