11/05/2018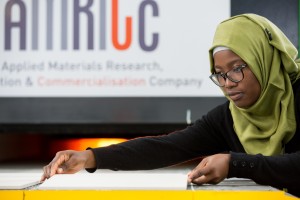 The scale of support for a degree apprenticeship centred around training the next generation of materials scientists and engineers has helped achieve a positive outcome for the proposal.
The Institute for Apprenticeships has approved the development of the occupational standard for the engineering and technology programme.
Evidence presented to the Institute from companies leading calls for the training – who together employ 40,000 staff in the UK and 150,000 globally – was a key influencer in the decision being reached.
The degree apprenticeship application, co-ordinated by the Applied Materials Research, Innovation and Commercialisation Company (AMRICC) in Stoke-on-Trent, has been led through an employer group, which was formed last year to lead the process.
The content of the degree apprenticeship will incorporate a broad range of materials including metals, ceramics and advanced ceramics, glass, polymers, rubbers and composites, as well as new and novel materials.
Dr Chris Stevens, of NGF Europe, is chair of the employer group. He said: "I am delighted the Institute for Apprenticeships has approved the proposal to generate a standard for apprentices to be trained to degree level in materials science and engineering.
"There is great potential to take young people, and existing experienced employees, as apprentices and provide them with good scientific understanding of how things work, so that products and processes can be made to work quickly and effectively. It will be a real benefit to individual companies and the UK as a whole.
"The gain in trouble-shooting and problem-solving skills will be of immediate payback. Product development timescales will be shortened as knowledgeable staff make good choices early on.
"Production efficiencies will also be raised by the higher competency of staff, and quality should improve, waste be reduced and environmental impacts lessened as apprentices' visions are expanded."
The employer group is now asking businesses to get involved to steer the development of the apprenticeship occupational standard and assessment.
Dr Stevens added: "The work begins now to put the course together.
"We need to identify what the apprentices should be able to do, and the knowledge skills and behaviours to help them achieve each area of working.
"After the course content and apprentice capability targets have been identified this will be followed by the need to define the checks and balances that will measure the apprentice's competence at work and assess that the end-points have been reached.
"Through such apprenticeships a company will receive back a more competent, more educated, more skilled employee than the one who started the course.
"As a result, it is hoped that a good cross-section of employers will be involved in defining the course and the achievement mile-posts so that this apprenticeship will achieve the benefits intended."
The degree apprenticeship is being supported by both Staffordshire and Manchester Metropolitan Universities.
James Smith from Caterpillar, who is vice chair of the employer group, said: "It is recognised that there are currently challenges in recruiting suitably-qualified graduates into materials engineering careers in industry.
"Combining a degree level education with an apprenticeship will ensure aspiring engineers have the skills, knowledge and behaviours to excel in an industrial environment.
"The new degree apprenticeship will cover education and training in a wide range of traditional and novel engineering materials and will address themes such as materials optimisation for product design, failure analysis, manufacturing processes, and end-of-life processing.
"This will set students up well to go straight into a career in analysis, manufacturing, product development, or the development of new materials themselves.
"We are excited to move now into the course development process and wish to get representation and input from as broad a range of employers as possible."
AMRICC has created an online area where companies can register their interest in the degree apprenticeship at www.amricc.com/degree-apprenticeship