25/11/2016
The head of a new £30 million advanced materials facility has welcomed the Government's bid to support innovation with billions of pounds in funding for scientific research and development.
Speaking at this week's CBI conference in the run-up to the Autumn Statement, Theresa May pledged the additional £2 billion funding by 2020.
The news has been warmly received by Dr Cathryn Hickey, the chief executive of the Applied Materials Research, Innovation and Commercialisation Company (AMRICC).
Situated in Stoke-on-Trent, AMRICC is supporting a new industrial landscape for the future by providing a facility to 'scale-up' ideas and innovations in ceramics into a commercial reality.
Dr Hickey said: "AMRICC will revolutionise the way industry brings new materials to market, creating an environment which champions scientific breakthrough and provides the business acumen needed to make innovation a commercial reality.
"Transformational technologies within the ceramics sector such as field enhanced sintering, a form of rapid heat treatment which also creates strength and integrity in the material, are showing significant product performance improvements and increased rate of manufacture.
"Ultimately, sintering can decrease the cost of manufacturing ceramics through a reduction in furnace temperature and reduced production timescales.
"The adoption of new technologies such as this not only offers productivity solutions to industry challenges, but also facilitates longer-term business growth.
"However, it is crucial for scientists and engineers to translate scientific advances into practical technologies.
"This requires a place where engineering can be developed at scale beyond what a university or research centre can do.
"AMRICC is unique in supporting technology transfer in applied materials. Its expertise and production facilities enable basic research to be scaled up to a new product that makes a difference for thousands of people in a controlled production setting."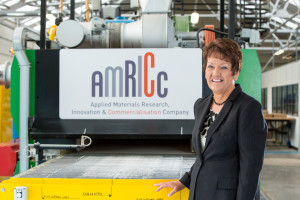 Officially launched in October this year, AMRICC is forging links with Imperial College London, the University of Manchester and Staffordshire University to develop a new generation of materials scientists and engineers and create a stream of talent.
Dr Hickey added: "AMRICC offers the UK – and Stoke-on-Trent and Staffordshire in particular – a unique opportunity to become the world leader in the commercialisation of materials and materials process development.
"Traditionally, once a new material or process is discovered, bringing it to commercial use in the marketplace has taken up to 20 years or more.
"In some cases the flow of innovation to fully commercialised products never happens and it's this 'valley of death' that AMRICC will address.
"AMRICC's unique collaboration between academia and industry partners will help companies drive innovation to develop, manufacture and deploy advanced materials much faster and at a fraction of the cost.
"It will also provide a key focal point to attract inward investment and help to address low levels of innovation – and builds on the heritage of ceramics, steel and polymers in Stoke-on-Trent and Staffordshire."
AMRICC is being established with the support of the international materials technology company Lucideon as well as Stoke-on-Trent City Council and the Stoke-on-Trent and Staffordshire Local Enterprise Partnership.
It will be initially based alongside Lucideon's headquarters in the Penkhull area of Stoke-on-Trent. In the future it is set to establish within the Ceramic Valley Enterprise Zone – being developed on along the A500 corridor in Stoke-on-Trent and Newcastle-under-Lyme.