27/08/2015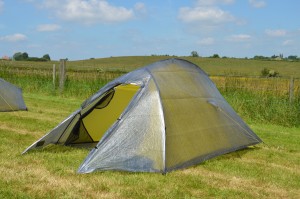 Guinness World Record holding outdoor gear specialist Terra Nova Equipment is continuing to lead the way in cutting edge technology for outdoor adventurers.
New for this season is the ultimate two person free-standing tent – the Solar Ultra 2 – which is the lightest ever model of its kind.
Developed and made in the UK at Terra Nova Equipment's Derbyshire factory, the model builds on a decade of class-leading credentials which saw the company achieve Guinness World Record breaking status several times over. It is an accolade it retains for the lightest single person tent.
With a packed weight of 772 grams – that's less than a standard loaf of bread – the Solar Ultra 2 uses the extremely lightweight Ultra fabric and has super strong factory bonded seams in its construction, which have been proven to be stronger than the fabric itself.
Designed for mountain marathon events or short duration backpacking trips, the Solar Ultra 2's attention to detail is outstanding.  It pitches with the inner first for a more stable structure and ultra-campers can reduce its weight further with Terra Nova's FastPack system. This is a method where a footprint is used to cover the floor area of the tent and locate the poles, allowing the inner to be left behind.
Other features include quick and easy assembly with an average pitch time of just five minutes. Its self-supporting design also provides a stable shape for use in poor weather or when ground conditions prevent secure pegging.
Said Terra Nova Equipment spokesperson Carolyn Budding: "We are always aiming to push the boundaries and innovate – so the world's leading adventurers and racers know they can expect the ultimate solution from us.
"Our heritage is in mountain tents which are still a regular sight on Everest and at the Poles, but the new millennium saw demand and development shift to super lightweight tents.
"It is more than a decade since we launched the first sub 1kg tent which secured us a Guinness World Record for the lightest tent in the world. It is a record we smashed three further times through the development of new materials and use of fabrics not previously used on a commercial scale in tent production.
"Now, the pioneering use of bonded seams in our ultra-light tents ensures durability and strength without adding weight, which means this two person tent is lighter than our original world-record breaking single person model.
"The Solar Ultra 2 is testament to our Derbyshire-based development team and their determination to maintain our position as the world's best."
The Solar Ultra 2 is available across the UK from Cotswold Outdoors and is sold worldwide through Terra Nova stockists. The Suggested Retail Price is £1,200.
To see a demonstration of the Solar Ultra 2 being pitched – visit https://www.youtube.com/watch?feature=player_embedded&v=fi9-5xUmxfc