08/09/2015
Autumn is just around the corner but specifiers can still keep exterior projects on track with a masonry paint specially formulated for use in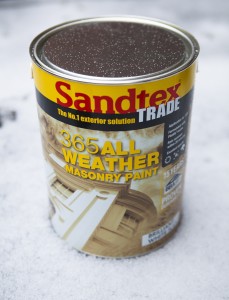 adverse weather conditions from Sandtex Trade.
Sandtex Trade 365 All Weather Masonry Paint features high performance Pliolite® Resin to combat difficult weather conditions, allowing work to extend later into the UK's traditional decorating season.
With 15 years' proven durability, Sandtex Trade 365 features exceptional adhesion, giving a long-lasting finish which has been independently certified by the British Board of Agrément.
This offers specifiers the benefits of a reduced maintenance cycle, delivering greater value for money and supporting sustainability initiatives.
Sharon Smith, Brand Manager for Sandtex Trade, said: "Carrying out exterior paint work in autumn can be a challenge, but Sandtex Trade 365 is ideal for projects at this time of year.
"It can be applied at temperatures as low as -10ºC, giving specifiers the option of selecting a product that can be applied outdoors later than they might usually expect.
"Sandtex Trade 365 is also rain-resistant in 20 minutes so can be applied when there is a slight threat of showers."
For more details please contact the Crown Paints' Specification Team by calling 0330 0240310, email info@crownpaintspec.co.uk or visit the specification website at www.crownpaintspec.co.uk
Alternatively, please visit www.sandtextrade.co.uk