09/07/2018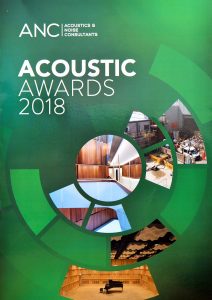 Acoustic professionals gathered in the Midlands for an annual event that promotes and recognises excellence in their industry.
Projects across a variety of environments were celebrated at the Acoustic Awards, organised by ANC, the Association of Noise Consultants, held at the Hyatt Regency Birmingham.
For six years ANC, the voice of professional consultancy in acoustics, noise and vibration, has held the awards to promote and recognise excellence among UK acoustic consultants.
This year the awards showcased the skills of members across five categories. An award was also given at the evening event for the best presentation of an award entry, judged by delegates at the ANC conference, which took place earlier in the day.
The winners were presented by Dr Hugh Hunt, Reader in Engineering Dynamics and Vibration at the University of Cambridge.
The winners were;
Building Acoustics, sponsored by H&H Acoustic Technologies 
WINNER: Clarke Saunders Associates – Quadrant 4
HIGHLY COMMENDED: Adrian James Acoustics – Nur Alem Pavilion
COMMENDED: Arup – Royal Academy of Music
COMMENDED: Hoare Lea – Outer Space Project
Education Acoustics, sponsored by Ecophon
WINNER: Hoare Lea – Royal Birmingham Conservatoire
HIGHLY COMMENDED: Apex Acoustics – The National Centre for the Written Word
COMMENDED: WSP – New River College Pupil Referral Unit and The Bridge Integrated Learning Space
Environmental Noise, sponsored by ANV Measurement Systems
WINNER: Southdowns Environmental Consultants – Crossrail C510
HIGHLY COMMENDED: Temple Group with FLO – Northern Line Extension
COMMENDED: Arup – Forth Replacement Crossing
Vibration, sponsored by Pliteq
WINNER: Atkins
HIGHLY COMMENDED: AECOM
COMMENDED: Apex Acoustics
Smaller Projects
WINNER: Bureau Veritas – Sidac Sports and Social Club
HIGHLY COMMENDED: RBA Acoustics – Lyall Mews – Site Enclosure
Best Presentation, sponsored by Armourcoat
WINNER: Adrian James Acoustics
A distinguished panel of judges comprising of academics and professionals, as well as representatives from the sponsor companies, scrutinised the national and international entries.
Full details about the successful entries can be found in the awards brochure 
Robert Osborne of ANC, said: "The awards recognise world-leading expertise in our industry.
"They show how ANC members lead the way to improve acoustics for the whole of society and promote high standards and good practice in the industry.
"We are very grateful to our sponsors and judges for their support."